The King Penguin
The King Penguin
(Fly to 1 of 10)
Look at all of the birds in the bird room and find the King Penguin.

The King Penguin is the second largest penguin species and they live in the Antarctic. Penguins are flightless birds that are well adapted for life in cold waters. They have webbed feet to help them swim and their wings make them very good divers.

Here is a penguin joke: Q: What is a penguin's favourite relative? A: Aunt Arctica!

STAY IN THIS ROOM
Brown Kiwi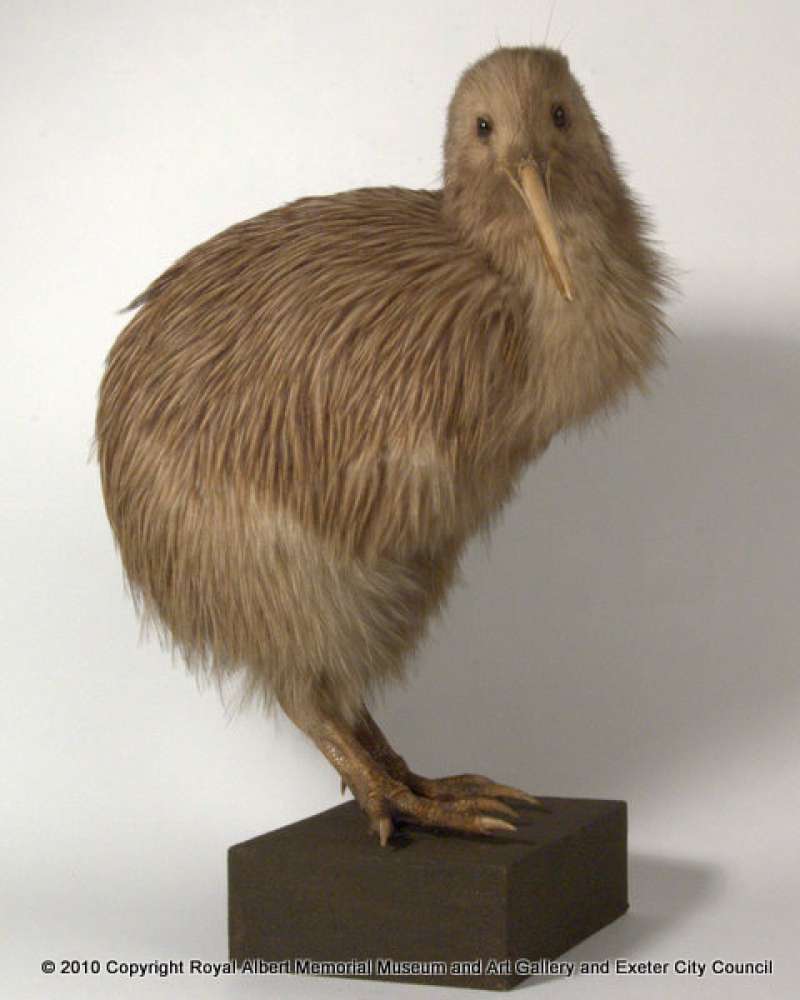 Brown Kiwi
(Fly to 2 of 10)
Take a closer look at all of the birds and try and find the Brown Kiwi bird at the bottom right of the display.

The Kiwi bird is one of the most distinctive birds and they only live in New Zealand. A brown kiwi is part of the ratite group of birds, which means they are flightless. These birds lack a bone in their chest that wings would normally attach to. The female kiwi is bigger than the male.

Fun Fact: Kiwi birds have nostrils at the end of their beak!

GO EXPLORING TO ANCIENT WORLDS IN ROOM 15.
Clay Models
Clay Models
(Fly to 3 of 10)
Explore the collection of clay models and find the bird. See if you can find out how old it is.

This clay bird model is thousands of years old. (2,450-3,050). Models of animals and birds were placed in burials or left at temples as offerings to the gods in ancient Cyprus. Bulls, dogs and horses were seen as very sacred. In Egypt, birds usually present goddesses and royalty.

GO EXPLORING TO THE WORLD CULTURES GALLERY
Bird on Totem Pole
Bird on Totem Pole
(Fly to 4 of 10)
Look for a bird and a bear carved onto a wooden totem pole.

Totem poles are sculptures carved from trees. This totem pole is smaller than usual and has a bear and an eagle carved onto it. Totem poles serve many purposes for different cultures and they are also beautiful to look at. It is not clear what this totem pole would have been used for but it was given to the donor in 1956 as a leaving present from fellow school teachers at a school in Vancouver, British Columbia, Canada.

FLY THROUGH THE ARCHWAY AND GO EXPLORING TO THE WORLD CULTURES GALLERY IN ROOM 12.
Tapestry
Tapestry
(Fly to 5 of 10)
Take a close look at the tapestry and see how many birds you can count.

Tapestry is a form of art that weaves textiles together, this one was made by a very talented artist who learnt to weave at a very young age. This woven tapestry shows daily village life upon the banks of the Nile. Did you know that the River Nile is the longest river in the world? The river flows through five different countries, Uganda, Ethiopia, Sudan, Burundi and Egypt and into the Mediterranean Sea.

STAY IN THIS ROOM FOR THE NEXT BIRD
Egungun Mask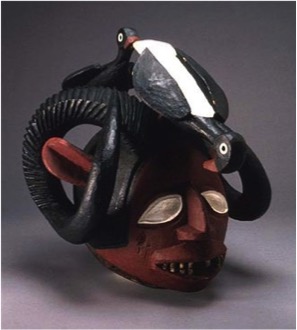 Egungun Mask
(Fly to 6 of 10)
Look for a mask with birds on.

This mask was collected from Nigeria, Western Africa and was used by the Yoruba tribe. The Egungun are masked men who represent the spirits of their ancestors. The mask is a hollow head with small holes for the attachment of a robe that was meant to completely cover the body of the Egungun. Two hornbills are carved separately on the head.

The Egungun mask is worn in masquerades, which are ways of remembering and paying respect to the dead. Each mask represents a certain spirit and it is believed they can enter the body of the person wearing the mask during the festival dance.

Have a look at the video link below to see the Yorubi tribe.

KEEP EXPLORING AND CARRY ON TO THE FINDERS KEEPERS GALLERY IN ROOM 11!
Huia Birds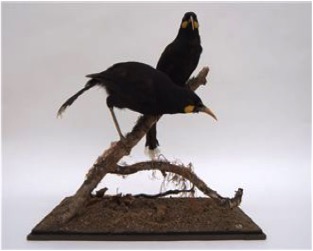 Huia Birds
(Fly to 7 of 10)
Find the Birds called Huia.

The Huia was a bird from New Zealand but became extinct in the early 20th century. The Maori are native Polynesian people from New Zealand and they regarded Huia as very sacred birds. Decorations of Huia skins, beaks and tail feathers were symbols of very high status for them. This species was highly prized by hunters and hundreds of skins were exported overseas for museums and private collections. Their feathers were also used to make fashion accessories.

As an explorer you need to understand that is important not to disturb the habitat or breeding patterns of the species you are discovering. Many animals have become extinct due to humans' fascination with them. There are now ways of protecting animals, such as breeding programmes in zoos and laws against the killing of certain animals. The biodiversity of the planet needs to be helped for the benefit of future generations of both animals and humans!

STAY IN THIS ROOM AND SEARCH FOR THE WOOD DUCK, YOU HAVE NEARLY COMPLETED YOUR TRAIL.
Wood Duck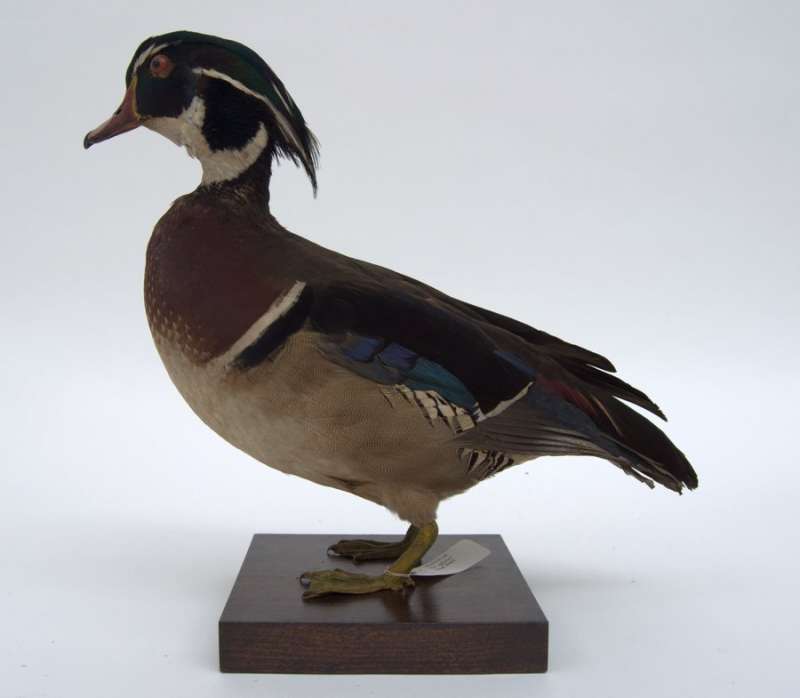 Wood Duck
(Fly to 8 of 10)
Wood Duck drakes are the most beautiful and vividly colored of all North American ducks. They have an unusual face pattern, red eyes and a distinctive white flare down the neck. Females are less colorful and have a white eye-ring and a whitish throat. Both adults have crested heads. The male wood duck has bright colors for courtship display while the female has dull colors to blend in with the environment. They are mainly vegetarians but also eat insects, snails, tadpoles, and salamanders. All ducks prefer to live in swamps and forests close to freshwater wetlands, rivers and ponds.

Fun Fact: Wood ducks are "dabbling" ducks and search for food while swimming.

WELL DONE, THE NEXT STOP IS THE FINAL BIRD. IT IS QUITE HARD TO FIND BUT STAY IN THIS ROOM AGAIN AND LOOK FOR TWO CLAY OWLS.
Lamp Filler with two Owls
Lamp Filler with two Owls
(Fly to 9 of 10)
This is a Moche vessel, a ceramic vessel that is unique to Moche culture from Peru in South America, and was made almost one thousand years later. Moche culture began in 100AD in Peru. In Moche ceramic art, birds represented warriors. Owls were important in Moche religion, because they were seen as victorious warriors. Owls are sometimes known as folk healers, whose power of curing illness is strengthened by their special nighttime vision.

Fun Fact: Owls have three eyelids. One for blinking, one for sleeping, and one for keeping the eye clean and healthy.

Follow the video link to hear the sound of a Tawny Owl
Congratulations, you have completed the trail
Congratulations, you have completed the trail
(Fly to 10 of 10)
You have travelled around the world on your very own bird adventure. You have learnt about different species of birds, their habitats, extinction and the importance of protecting them. Make sure you continue to look out for all different species of birds when you leave and think about their importance in the world. You have been such a great explorer, go and collect your bird sticker from the gift shop! If you are still keen to explore, make sure you have a look around the museum, there is lots more to discover.


Bird Adventure
Hi Explorer!
This trail takes you around the world exploring different kinds of birds. Become an explorer and see if you can find all nine birds. Whilst you are exploring take some pictures with your favourite bird. Upload them onto Facebook, Twitter or Instagram with the hashtag #rammbirdadventure.
Once you have found all of the birds head to the RAMM gift shop to collect your sticker!
This trail is suitable for children with an accompanying adult.

Guardian – you are the guide for today's adventure. Make sure you help the explorer find all the birds from around the world and teach them about the different species.

Some of the birds you see are going to be stuffed. This is called taxidermy which is no longer acceptable as we want to help and protect all the species of birds that we can. Instead of using taxidermy to look at birds, now we can see them outside, in bird sanctuaries or learn about them through pictures.

I hope you are ready for an adventure, its time to start exploring the museum for birds… first of all go to the bird gallery in room 17 of the first floor.

This was made by students from Exeter University studying Digital Humanities. (Cajame Chanter, Grayson Ponti, Dan Linh Luong and Sarah Goble)
More by Bird Adventure
Introduction

These terms and conditions govern your use of our website.
By using our website, you accept these terms and conditions in full; accordingly, if you disagree with these terms and conditions or any part of these terms and conditions, you must not use our website.
If you submit any material to our website or use any of our website services, we will ask you to expressly agree to these terms and conditions.
You must be at least 13 years of age to use our website; and by using our website or agreeing to these terms and conditions, you warrant and represent to us that you are at least 13 years of age.
Our website uses cookies; by using our website or agreeing to these terms and conditions, you consent to our use of cookies.

Copyright notice

Copyright (c) 2022 Bird Adventure.
Subject to the express provisions of these terms and conditions:
(a)we, together with our licensors, own and control all the copyright and other intellectual property rights in our website and the material on our website; and
(b)all the copyright and other intellectual property rights in our website and the material on our website are reserved.

Licence to use website

You may:
(a)view pages from our website in a web browser;
(b)download pages from our website for caching in a web browser;
(c)print pages from our website;
(d)stream audio and video files from our website; and
(e)use our website services by means of a web browser,
subject to the other provisions of these terms and conditions.
Except as expressly permitted by the other provisions of these terms and conditions, you must not download any material from our website or save any such material to your computer.
You may only use our website for your own personal and business purposes and you must not use our website for any other purposes.
Except as expressly permitted by these terms and conditions, you must not edit or otherwise modify any material on our website.
Unless you own or control the relevant rights in the material, you must not:
(a)republish material from our website (including republication on another website);
(b)sell, rent or sub-license material from our website;
(c)show any material from our website in public;
(d)exploit material from our website for a commercial purpose; or
(e)redistribute material from our website.
We reserve the right to restrict access to areas of our website, or indeed our whole website, at our discretion; you must not circumvent or bypass, or attempt to circumvent or bypass, any access restriction measures on our website.

Acceptable use

You must not:
(a)use our website in any way or take any action that causes, or may cause, damage to the website or impairment of the performance, availability or accessibility of the website;
(b)use our website in any way that is unlawful, illegal, fraudulent or harmful, or in connection with any unlawful, illegal, fraudulent or harmful purpose or activity;
(c)use our website to copy, store, host, transmit, send, use, publish or distribute any material which consists of (or is linked to) any spyware, computer virus, Trojan horse, worm, keystroke logger, rootkit or other malicious computer software;
(d)conduct any systematic or automated data collection activities (including without limitation scraping, data mining, data extraction and data harvesting) on or in relation to our website without our express written consent;
(e)access or otherwise interact with our website using any robot, spider or other automated means;
(f)violate the directives set out in the robots.txt file for our website; or
(g)use data collected from our website for any direct marketing activity (including without limitation email marketing, SMS marketing, telemarketing and direct mailing).
You must not use data collected from our website to contact individuals, companies or other persons or entities.
You must ensure that all the information you supply to us through our website, or in relation to our website, is true, accurate, current, complete and non-misleading.

Posting material

To be eligible to post information on our website you must be at least 13 years of age and resident in the United Kingdom.

User IDs and passwords

If you register for an account with our website, we will provide you with a user ID and password.
Your user ID must not be liable to mislead and must comply with the content rules set out in Section 9; you must not use your account or user ID for or in connection with the impersonation of any person.
You must keep your password confidential.
You must notify us in writing immediately if you become aware of any disclosure of your password.
You are responsible for any activity on our website arising out of any failure to keep your password confidential, and may be held liable for any losses arising out of such a failure.

Cancellation and suspension of account

We may:
(a)suspend your account;
(b)cancel your account; and/or
(c)edit your account details,
at any time in our sole discretion without notice or explanation.

Your content: licence

In these terms and conditions, "your content" means all works and materials (including without limitation text, graphics, images, audio material, video material, audio-visual material, scripts, software and files) that you submit to us or our website for storage or publication on, processing by, or transmission via, our website.
You grant to us a perpetual, irrevocable, worldwide, royalty-free, and non-exclusive license to use, reproduce, store, adapt, publish, translate and distribute your content in any existing or future media / reproduce, store and publish your content on and in relation to this website and any successor website / reproduce, store and, with your specific consent, publish your content on and in relation to this website.
You hereby waive all your moral rights in your content to the maximum extent permitted by applicable law; and you warrant and represent that all other moral rights in your content have been waived to the maximum extent permitted by applicable law.
Without prejudice to our other rights under these terms and conditions, if you breach any provision of these terms and conditions in any way, or if we reasonably suspect that you have breached these terms and conditions in any way, we may delete, unpublish or edit any or all of your content.

Your content: rules

You warrant and represent that your content will comply with these terms and conditions.
Your content must not be illegal or unlawful, must not infringe any person's legal rights, and must not be capable of giving rise to legal action against any person (in each case in any jurisdiction and under any applicable law).
Your content, and the use of your content by us in accordance with these terms and conditions, must not:
(a)be libellous or maliciously false;
(b)be obscene or indecent;
(c)infringe any copyright, moral right, database right, trade mark right, design right, right in passing off, or other intellectual property right;
(d)infringe any right of confidence, right of privacy or right under data protection legislation;
(e)constitute negligent advice or contain any negligent statement;
(f)constitute an incitement to commit a crime[, instructions for the commission of a crime or the promotion of criminal activity;
(g)be in contempt of any court, or in breach of any court order;
(h)be in breach of racial or religious hatred or discrimination legislation;
(i)be blasphemous;
(j)be in breach of official secrets legislation;
(k)be in breach of any contractual obligation owed to any person;
(l)depict violence, in an explicit, graphic or gratuitous manner;
(m) be pornographic, lewd, suggestive or sexually explicit;
(n)be untrue, false, inaccurate or misleading;
(o)consist of or contain any instructions, advice or other information which may be acted upon and could, if acted upon, cause illness, injury or death, or any other loss or damage;
(p)constitute spam;
(q)contain pictures of children under the age of 16 years whose parental consent hasn't been completly gained;
(r)be offensive, deceptive, fraudulent, threatening, abusive, harassing, anti-social, menacing, hateful, discriminatory or inflammatory; or
(s)cause annoyance, inconvenience or needless anxiety to any person.
Your content must be appropriate, civil and tasteful, and accord with generally accepted standards of etiquette and behaviour on the internet.
You must not use our website to link to any website or web page consisting of or containing material that would, were it posted on our website, breach the provisions of these terms and conditions.
You must not submit to our website any material that is or has ever been the subject of any threatened or actual legal proceedings or other similar complaint.

Report abuse

If you learn of any unlawful material or activity on our website, or any material or activity that breaches these terms and conditions, please let us know.
You can let us know by email by clicking here: thomas.cadbury@exeter.gov.uk

Limited warranties

We do not warrant or represent:
(a)the completeness or accuracy of the information published on our website;
(b)that the material on the website is up to date; or
(c)that the website or any service on the website will remain available.
We reserve the right to discontinue or alter any or all of our website services, and to stop publishing our website, at any time in our sole discretion without notice or explanation; and save to the extent that these terms and conditions expressly provide otherwise, you will not be entitled to any compensation or other payment upon the discontinuance or alteration of any website services, or if we stop publishing the website.
To the maximum extent permitted by applicable law we exclude all representations and warranties relating to the subject matter of these terms and conditions, our website and the use of our website.

Limitations and exclusions of liability

Nothing in these terms and conditions will:
(a)limit or exclude any liability for death or personal injury resulting from negligence;
(b)limit or exclude any liability for fraud or fraudulent misrepresentation;
(c)limit any liabilities in any way that is not permitted under applicable law; or
(d)exclude any liabilities that may not be excluded under applicable law.
The limitations and exclusions of liability set out elsewhere in these terms and conditions:
(a)govern all liabilities arising under these terms and conditions or relating to the subject matter of these terms and conditions, including liabilities arising in contract, in tort (including negligence) and for breach of statutory duty.
To the extent that our website and the information and services on our website are provided free of charge, we will not be liable for any loss or damage of any nature.
We will not be liable to you in respect of any losses arising out of any event or events beyond our reasonable control.
We will not be liable to you in respect of any business losses, including (without limitation) loss of or damage to profits, income, revenue, use, production, anticipated savings, business, contracts, commercial opportunities or goodwill.
We will not be liable to you in respect of any loss or corruption of any data, database or software.
We will not be liable to you in respect of any special, indirect or consequential loss or damage.
You accept that we have an interest in limiting the personal liability of our officers and employees and, having regard to that interest, you acknowledge that we are a limited liability entity; you agree that you will not bring any claim personally against our officers or employees in respect of any losses you suffer in connection with the website or these terms and conditions (this will not, of course, limit or exclude the liability of the limited liability entity itself for the acts and omissions of our officers and employees).

Indemnity

You hereby indemnify us, and undertake to keep us indemnified, against any and all losses, damages, costs, liabilities and expenses (including without limitation legal expenses and any amounts paid by us to a third party in settlement of a claim or dispute) incurred or suffered by us and arising directly or indirectly out of:
(a)any breach by you of any provision of these terms and conditions; or
(b)your use of our website.

Breaches of these terms and conditions

Without prejudice to our other rights under these terms and conditions, if you breach these terms and conditions in any way, or if we reasonably suspect that you have breached these terms and conditions in any way, we may:
(a)send you one or more formal warnings;
(b)temporarily suspend your access to our website;
(c)permanently prohibit you from accessing our website;
(d)block computers using your IP address from accessing our website;
(e)contact any or all your internet service providers and request that they block your access to our website;
(f)commence legal action against you, whether for breach of contract or otherwise; and/or
(g)suspend or delete your account on our website.
Where we suspend or prohibit or block your access to our website or a part of our website, you must not take any action to circumvent such suspension or prohibition or blocking (including without limitation creating and/or using a different account).

Third party websites

Our website includes hyperlinks to other websites owned and operated by third parties; such hyperlinks are not recommendations.

Competitions

From time to time we may run competitions, free prize draws and/or other promotions on our website.
Competitions will be subject to separate terms and conditions (which we will make available to you as appropriate).

Variation

We may revise these terms and conditions from time to time.
The revised terms and conditions will apply to the use of our website from the date of their publication on the website, and you hereby waive any right you may otherwise have to be notified of, or to consent to, revisions of the terms and conditions. / We will give you written notice of any revision of these terms and conditions, and the revised terms and conditions will apply to the use of our website from the date that we give you such notice; if you do not agree to the revised terms and conditions, you must stop using our website.
If you have given your express agreement to these terms and conditions, we will ask for your express agreement to any revision of these terms and conditions; and if you do not give your express agreement to the revised terms and conditions within such period as we may specify, we will disable or delete your account on the website, and you must stop using the website.

Assignment

You hereby agree that we may assign, transfer, sub-contract or otherwise deal with our rights and/or obligations under these terms and conditions.
You may not without our prior written consent assign, transfer, sub-contract or otherwise deal with any of your rights and/or obligations under these terms and conditions.

Severability

If a provision of these terms and conditions is determined by any court or other competent authority to be unlawful and/or unenforceable, the other provisions will continue in effect.
If any unlawful and/or unenforceable provision of these terms and conditions would be lawful or enforceable if part of it were deleted, that part will be deemed to be deleted, and the rest of the provision will continue in effect.

Third party rights

These terms and conditions are for our benefit and your benefit, and are not intended to benefit or be enforceable by any third party.
The exercise of the parties' rights under these terms and conditions is not subject to the consent of any third party.

Law and jurisdiction

These terms and conditions shall be governed by and construed in accordance with English law.
Any disputes relating to these terms and conditions shall be subject to the exclusive jurisdiction of the courts of England.

Our details

This website is licensed and operated by Bird Adventure.
You can contact us by using by email to thomas.cadbury@exeter.gov.uk
Close