Mother goddess figurine
Mother goddess figurine
(Object 1 of 9)
Can you spot the ceramic figurine of a headless person nursing two children? It shows a fertility goddess, the Dea Nutrix.

What does this figurine represent?
What purpose did it serve?

Such figures have been interpreted as remnants of pre-Greek and pre-Roman matriarchal societies that were focused on women and that were erased by later patriarchal societies structured around men.
Jane Ellen Harrison (1850-1928), a British classicist and feminist who had several relationships with other women, developed this argument.

What would history look like if it were written from the perspective of cisgender and transgender women? Or non-binary people?
Formal gown
Formal gown
(Object 2 of 9)
Look for an elaborate formal gown made of hand-painted Chinese silk.

In Ryan Murphy's television show Pose (2018), a group of friends steal royal costumes from a museum to use in their drag acts. The show depicts the New York ball scene of the 1980s, a flourishing subculture created by Black and Latino trans and queer people. Legendary black queens like Pepper LaBeija (1948-2003) or Venus Xtravaganza (1965-1988) were famous for their grand costumes and often drew inspiration from history to craft
their own performances.

Which objects from the museum would you use in your own drag show?
Longcase clocks
Longcase clocks
(Object 3 of 9)
Time along with same-sex desire, art and beauty are key themes in The Picture of Dorian Gray (1890), a novel by Irish author Oscar Wilde (1854-1900). Dorian does not age and enjoys seemingly eternal youth.

How have age and ageing
affected your identity?

In 1895, Wilde was convicted of gross indecency with men, leading to two years of hard labour, which sadly destroyed his health. His work lives on and has inspired
generations of writers, theatre, film and TV makers.

Do you know when male homosexuality was decriminalised in the UK?
Second World War Anderson shelter
Second World War Anderson shelter
(Object 4 of 9)
Stop at the air raid shelter.

The Second World War and the Blitz are central to The Night Watch (2006), a historical novel by English author Sarah Waters (born in 1966). Set in the 1940s,
it charts the lives of three lesbian characters, Kay, Helen and Julia. During the night watch, liaisons are made and love is forged amidst the sounds of bombs falling.

An earlier novel, The Well of Loneliness (1928), by English writer Radclyffe Hall (1880-1943), similarly describes how queer people find love at the front during the First World War.

Why do many lesbian novelists write historical fiction?
Tailfin of an incendiary bomb
Tailfin of an incendiary bomb
(Object 5 of 9)
Explore other objects related to The Second World War.

Mathematician and computer scientist Alan Turing (1912-1954) played a key role in developing the Enigma machine during The Second World War. His work was pivotal in cracking the German's codes, thus enabling the Allies to win the war. In 1952, Turing was prosecuted for
homosexual acts and underwent chemical castration, which led to his premature death. He was awarded a posthumous royal pardon in 2013.

Do you think it is enough for Turing to be "pardoned"?

How would our understanding of history change if we knew more about the contributions of LGBTQIA+ people?
Blue morpho butterfly
Blue morpho butterfly
(Object 6 of 9)
Have a look at the beautiful display of butterflies.

Why are butterflies often used as a symbol by the LGBTQIA+ community?

In 1915, German-born American biologist Richard Goldschmidt (1878-1958) coined the term intersex. He had discovered that moths (Lymantria dispar) could be bred to combine typically male and female physical characteristics.

Nowadays, the term intersex is used to refer to people who are born with sex characteristics (such as chromosomes or hormonal structures) that cannot strictly be classified as male or female. Such variations of sex characteristics occur naturally and, in most cases, do not require medical intervention.
Egyptian goose
Egyptian goose
(Object 7 of 9)
Find the Egyptian goose.

The protagonist of Orlando (1928), a novel by English author Virginia Woolf (1882-1941), is assigned male at birth in the 16th century. Aged about 30, they magically transition physically and live as a woman for several centuries.
Orlando repeatedly chases after a mysterious goose without capturing it.

What can Orlando teach us about gender?

The book is a playful biography of Woolf 's lover, the writer Vita Sackville-West (1892-1962). Sackville-West was bisexual
and identified as masculine and feminine. After reading Orlando, Sackville-West wondered: "What does the goose stand for? Fame? Love? Death? Marriage?"

What is Orlando chasing?
Effigy bottle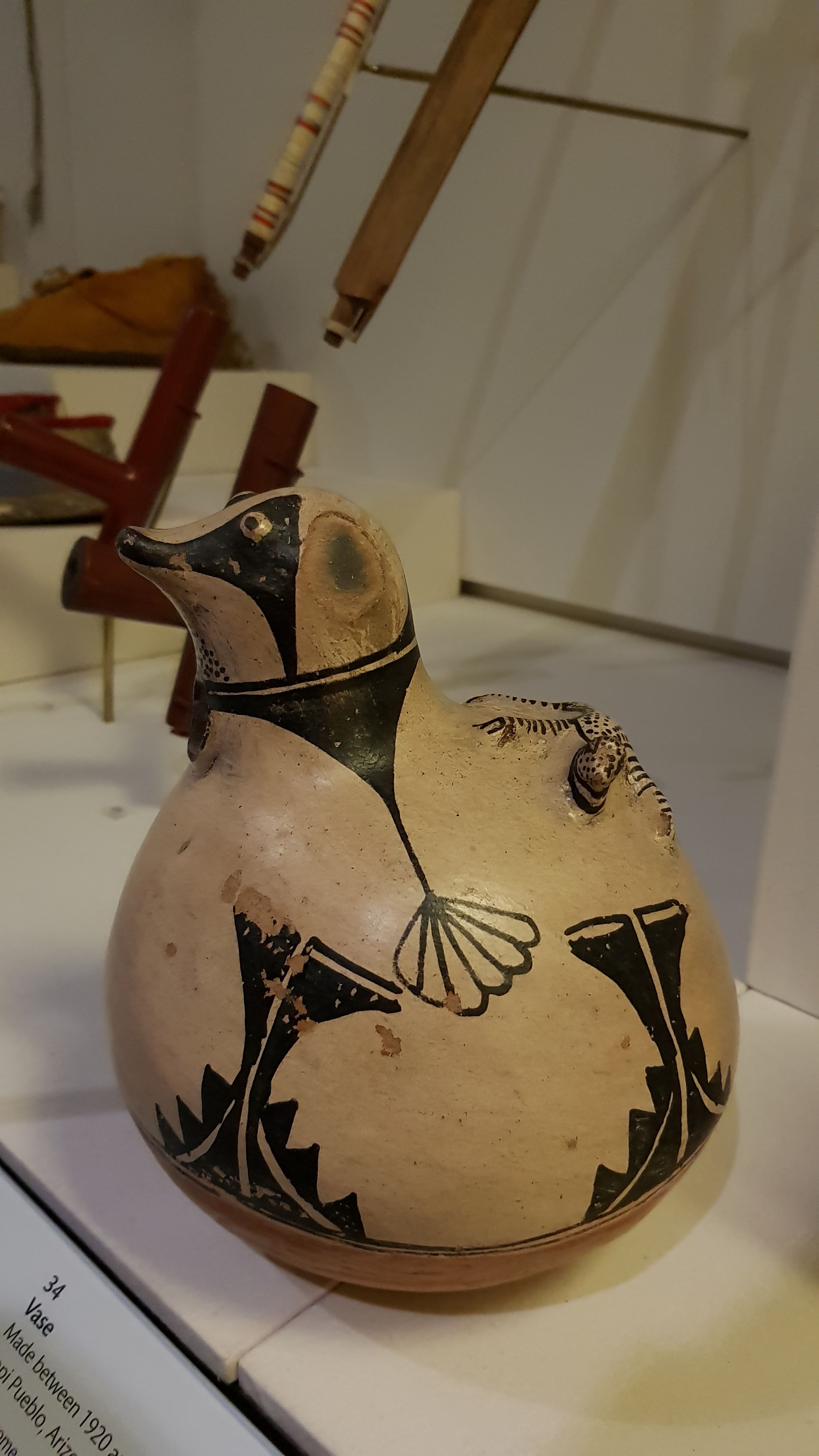 Effigy bottle
(Object 8 of 9)
Look for an object shaped like a badger with a lizard on its back.

A Zuni artist made this vessel. The Zuni people have lived in the American Southwest for thousands of years.

We'wha (1849-1896) was a famous Zuni artist whose pottery was celebrated across America. We'wha was Lhamana, the Zuni term for individuals who are assigned male at birth and identify (at least partly) as female. Lhamana individuals are respected in Zuni society.

Nowadays, the term Two-Spirit is used to describe gender diverse identities specific to some Native American communities.

Can you find other objects by Zuni artists nearby?
Shiva and Parvati Maharashtra
Shiva and Parvati Maharashtra
(Object 9 of 9)
Look for the figurine of Shiva and Parvati in the display case opposite the green robe

Shiva and Parvati are two married Hindu deities. They are sometimes depicted as a single god, Ardhanari, who is half-male and half-female.

Ardhanari has special significance for Indian Hijra communities.

Hijras are individuals who identify as female and who were assigned male at birth or born intersex. Hijra communities were criminalised under British colonial rule.

How does colonialism affect gender and sexually diverse people across the globe?


Rainbow Trail
Welcome to the Rainbow Trail, which explores gender and sexual diversity across time, place and culture.

This trail was designed by Natalie McGrath and Dr Jana Funke (University of Exeter) together with young LGBTQIA+ people from the X-Plore Youth Group and Exeter College's LGBTQ+ Society.
Welcome to the Rainbow Trail, which explores gender and sexual diversity across time, place and culture.

This trail was designed by Natalie McGrath and Dr Jana Funke (University of Exeter) together with young LGBTQIA+ people from the X-Plore Youth Group and Exeter College's LGBTQ+ Society.
Introduction

These terms and conditions govern your use of our website.
By using our website, you accept these terms and conditions in full; accordingly, if you disagree with these terms and conditions or any part of these terms and conditions, you must not use our website.
If you submit any material to our website or use any of our website services, we will ask you to expressly agree to these terms and conditions.
You must be at least 13 years of age to use our website; and by using our website or agreeing to these terms and conditions, you warrant and represent to us that you are at least 13 years of age.
Our website uses cookies; by using our website or agreeing to these terms and conditions, you consent to our use of cookies.

Copyright notice

Copyright (c) 2023 Rainbow Trail.
Subject to the express provisions of these terms and conditions:
(a)we, together with our licensors, own and control all the copyright and other intellectual property rights in our website and the material on our website; and
(b)all the copyright and other intellectual property rights in our website and the material on our website are reserved.

Licence to use website

You may:
(a)view pages from our website in a web browser;
(b)download pages from our website for caching in a web browser;
(c)print pages from our website;
(d)stream audio and video files from our website; and
(e)use our website services by means of a web browser,
subject to the other provisions of these terms and conditions.
Except as expressly permitted by the other provisions of these terms and conditions, you must not download any material from our website or save any such material to your computer.
You may only use our website for your own personal and business purposes and you must not use our website for any other purposes.
Except as expressly permitted by these terms and conditions, you must not edit or otherwise modify any material on our website.
Unless you own or control the relevant rights in the material, you must not:
(a)republish material from our website (including republication on another website);
(b)sell, rent or sub-license material from our website;
(c)show any material from our website in public;
(d)exploit material from our website for a commercial purpose; or
(e)redistribute material from our website.
We reserve the right to restrict access to areas of our website, or indeed our whole website, at our discretion; you must not circumvent or bypass, or attempt to circumvent or bypass, any access restriction measures on our website.

Acceptable use

You must not:
(a)use our website in any way or take any action that causes, or may cause, damage to the website or impairment of the performance, availability or accessibility of the website;
(b)use our website in any way that is unlawful, illegal, fraudulent or harmful, or in connection with any unlawful, illegal, fraudulent or harmful purpose or activity;
(c)use our website to copy, store, host, transmit, send, use, publish or distribute any material which consists of (or is linked to) any spyware, computer virus, Trojan horse, worm, keystroke logger, rootkit or other malicious computer software;
(d)conduct any systematic or automated data collection activities (including without limitation scraping, data mining, data extraction and data harvesting) on or in relation to our website without our express written consent;
(e)access or otherwise interact with our website using any robot, spider or other automated means;
(f)violate the directives set out in the robots.txt file for our website; or
(g)use data collected from our website for any direct marketing activity (including without limitation email marketing, SMS marketing, telemarketing and direct mailing).
You must not use data collected from our website to contact individuals, companies or other persons or entities.
You must ensure that all the information you supply to us through our website, or in relation to our website, is true, accurate, current, complete and non-misleading.

Posting material

To be eligible to post information on our website you must be at least 13 years of age and resident in the United Kingdom.

User IDs and passwords

If you register for an account with our website, we will provide you with a user ID and password.
Your user ID must not be liable to mislead and must comply with the content rules set out in Section 9; you must not use your account or user ID for or in connection with the impersonation of any person.
You must keep your password confidential.
You must notify us in writing immediately if you become aware of any disclosure of your password.
You are responsible for any activity on our website arising out of any failure to keep your password confidential, and may be held liable for any losses arising out of such a failure.

Cancellation and suspension of account

We may:
(a)suspend your account;
(b)cancel your account; and/or
(c)edit your account details,
at any time in our sole discretion without notice or explanation.

Your content: licence

In these terms and conditions, "your content" means all works and materials (including without limitation text, graphics, images, audio material, video material, audio-visual material, scripts, software and files) that you submit to us or our website for storage or publication on, processing by, or transmission via, our website.
You grant to us a perpetual, irrevocable, worldwide, royalty-free, and non-exclusive license to use, reproduce, store, adapt, publish, translate and distribute your content in any existing or future media / reproduce, store and publish your content on and in relation to this website and any successor website / reproduce, store and, with your specific consent, publish your content on and in relation to this website.
You hereby waive all your moral rights in your content to the maximum extent permitted by applicable law; and you warrant and represent that all other moral rights in your content have been waived to the maximum extent permitted by applicable law.
Without prejudice to our other rights under these terms and conditions, if you breach any provision of these terms and conditions in any way, or if we reasonably suspect that you have breached these terms and conditions in any way, we may delete, unpublish or edit any or all of your content.

Your content: rules

You warrant and represent that your content will comply with these terms and conditions.
Your content must not be illegal or unlawful, must not infringe any person's legal rights, and must not be capable of giving rise to legal action against any person (in each case in any jurisdiction and under any applicable law).
Your content, and the use of your content by us in accordance with these terms and conditions, must not:
(a)be libellous or maliciously false;
(b)be obscene or indecent;
(c)infringe any copyright, moral right, database right, trade mark right, design right, right in passing off, or other intellectual property right;
(d)infringe any right of confidence, right of privacy or right under data protection legislation;
(e)constitute negligent advice or contain any negligent statement;
(f)constitute an incitement to commit a crime[, instructions for the commission of a crime or the promotion of criminal activity;
(g)be in contempt of any court, or in breach of any court order;
(h)be in breach of racial or religious hatred or discrimination legislation;
(i)be blasphemous;
(j)be in breach of official secrets legislation;
(k)be in breach of any contractual obligation owed to any person;
(l)depict violence, in an explicit, graphic or gratuitous manner;
(m) be pornographic, lewd, suggestive or sexually explicit;
(n)be untrue, false, inaccurate or misleading;
(o)consist of or contain any instructions, advice or other information which may be acted upon and could, if acted upon, cause illness, injury or death, or any other loss or damage;
(p)constitute spam;
(q)contain pictures of children under the age of 16 years whose parental consent hasn't been completly gained;
(r)be offensive, deceptive, fraudulent, threatening, abusive, harassing, anti-social, menacing, hateful, discriminatory or inflammatory; or
(s)cause annoyance, inconvenience or needless anxiety to any person.
Your content must be appropriate, civil and tasteful, and accord with generally accepted standards of etiquette and behaviour on the internet.
You must not use our website to link to any website or web page consisting of or containing material that would, were it posted on our website, breach the provisions of these terms and conditions.
You must not submit to our website any material that is or has ever been the subject of any threatened or actual legal proceedings or other similar complaint.

Report abuse

If you learn of any unlawful material or activity on our website, or any material or activity that breaches these terms and conditions, please let us know.
You can let us know by email by clicking here: oliver.walrond@exeter.gov.uk

Limited warranties

We do not warrant or represent:
(a)the completeness or accuracy of the information published on our website;
(b)that the material on the website is up to date; or
(c)that the website or any service on the website will remain available.
We reserve the right to discontinue or alter any or all of our website services, and to stop publishing our website, at any time in our sole discretion without notice or explanation; and save to the extent that these terms and conditions expressly provide otherwise, you will not be entitled to any compensation or other payment upon the discontinuance or alteration of any website services, or if we stop publishing the website.
To the maximum extent permitted by applicable law we exclude all representations and warranties relating to the subject matter of these terms and conditions, our website and the use of our website.

Limitations and exclusions of liability

Nothing in these terms and conditions will:
(a)limit or exclude any liability for death or personal injury resulting from negligence;
(b)limit or exclude any liability for fraud or fraudulent misrepresentation;
(c)limit any liabilities in any way that is not permitted under applicable law; or
(d)exclude any liabilities that may not be excluded under applicable law.
The limitations and exclusions of liability set out elsewhere in these terms and conditions:
(a)govern all liabilities arising under these terms and conditions or relating to the subject matter of these terms and conditions, including liabilities arising in contract, in tort (including negligence) and for breach of statutory duty.
To the extent that our website and the information and services on our website are provided free of charge, we will not be liable for any loss or damage of any nature.
We will not be liable to you in respect of any losses arising out of any event or events beyond our reasonable control.
We will not be liable to you in respect of any business losses, including (without limitation) loss of or damage to profits, income, revenue, use, production, anticipated savings, business, contracts, commercial opportunities or goodwill.
We will not be liable to you in respect of any loss or corruption of any data, database or software.
We will not be liable to you in respect of any special, indirect or consequential loss or damage.
You accept that we have an interest in limiting the personal liability of our officers and employees and, having regard to that interest, you acknowledge that we are a limited liability entity; you agree that you will not bring any claim personally against our officers or employees in respect of any losses you suffer in connection with the website or these terms and conditions (this will not, of course, limit or exclude the liability of the limited liability entity itself for the acts and omissions of our officers and employees).

Indemnity

You hereby indemnify us, and undertake to keep us indemnified, against any and all losses, damages, costs, liabilities and expenses (including without limitation legal expenses and any amounts paid by us to a third party in settlement of a claim or dispute) incurred or suffered by us and arising directly or indirectly out of:
(a)any breach by you of any provision of these terms and conditions; or
(b)your use of our website.

Breaches of these terms and conditions

Without prejudice to our other rights under these terms and conditions, if you breach these terms and conditions in any way, or if we reasonably suspect that you have breached these terms and conditions in any way, we may:
(a)send you one or more formal warnings;
(b)temporarily suspend your access to our website;
(c)permanently prohibit you from accessing our website;
(d)block computers using your IP address from accessing our website;
(e)contact any or all your internet service providers and request that they block your access to our website;
(f)commence legal action against you, whether for breach of contract or otherwise; and/or
(g)suspend or delete your account on our website.
Where we suspend or prohibit or block your access to our website or a part of our website, you must not take any action to circumvent such suspension or prohibition or blocking (including without limitation creating and/or using a different account).

Third party websites

Our website includes hyperlinks to other websites owned and operated by third parties; such hyperlinks are not recommendations.

Competitions

From time to time we may run competitions, free prize draws and/or other promotions on our website.
Competitions will be subject to separate terms and conditions (which we will make available to you as appropriate).

Variation

We may revise these terms and conditions from time to time.
The revised terms and conditions will apply to the use of our website from the date of their publication on the website, and you hereby waive any right you may otherwise have to be notified of, or to consent to, revisions of the terms and conditions. / We will give you written notice of any revision of these terms and conditions, and the revised terms and conditions will apply to the use of our website from the date that we give you such notice; if you do not agree to the revised terms and conditions, you must stop using our website.
If you have given your express agreement to these terms and conditions, we will ask for your express agreement to any revision of these terms and conditions; and if you do not give your express agreement to the revised terms and conditions within such period as we may specify, we will disable or delete your account on the website, and you must stop using the website.

Assignment

You hereby agree that we may assign, transfer, sub-contract or otherwise deal with our rights and/or obligations under these terms and conditions.
You may not without our prior written consent assign, transfer, sub-contract or otherwise deal with any of your rights and/or obligations under these terms and conditions.

Severability

If a provision of these terms and conditions is determined by any court or other competent authority to be unlawful and/or unenforceable, the other provisions will continue in effect.
If any unlawful and/or unenforceable provision of these terms and conditions would be lawful or enforceable if part of it were deleted, that part will be deemed to be deleted, and the rest of the provision will continue in effect.

Third party rights

These terms and conditions are for our benefit and your benefit, and are not intended to benefit or be enforceable by any third party.
The exercise of the parties' rights under these terms and conditions is not subject to the consent of any third party.

Law and jurisdiction

These terms and conditions shall be governed by and construed in accordance with English law.
Any disputes relating to these terms and conditions shall be subject to the exclusive jurisdiction of the courts of England.

Our details

This website is licensed and operated by Rainbow Trail.
You can contact us by using by email to oliver.walrond@exeter.gov.uk
Close