Tiger
Tiger
(object 1 of 13)
CASE HISTORIES GALLERY

This Bengal tiger is one of the 39 tigers shot by King George V in Nepal in 1911. RAMM is one of the eight museums in the UK to receive a tiger skin from the King, which was a huge honour.

Modern attitudes to wildlife are quite different. Today, 'trophy hunting expeditions' like this are illegal. Bengal tigers are endangered, with only around 4000 left in the world. King Charles III is a passionate advocate for wildlife conservation and environmental sustainability.
Royal lace bobbins
Royal lace bobbins
(object 2 of 13)
FINDERS KEEPERS GALLERY

These royal commemorative lace bobbins are on loan to the museum from volunteer Carol. They celebrate events in the royal family. The most recent in Carol's collection commemorates the life of Queen Elizabeth II.

Look closely at Carol's decorated bobbins. Which is your favourite and why?
Uniform of the Lord-Lieutenant of Devon
Uniform of the Lord-Lieutenant of Devon
(object 3 of 13)
COURYARD, UPPER LEVEL

Sir Eric Dancer KCVO CBE KStJ wore this uniform while serving Queen Elizabeth II from 1998 until his retirement in 2015. A Lord-Lieutenant is the British monarch's personal representative in each area of the United Kingdom. Their role includes arranging royal visits and celebrating the achievements of local people, communities, culture and businesses, and supporting the armed forces.

To celebrate he coronation of King Charles III Sir Eric has kindly lent RAMM his medals for the occasion. They were always worn when in uniform. The uniform is displayed without the ceremonial sword which passed to the current Lord-Lieutenant, David Fursdon.

How many crown motifs can you spot?
Royal blood?
Royal blood?
(object 4 of 13)
FLY ON THE WALL GALLERY

Horseshoe crabs have bright blue blood. This is because their blood cells contain copper to transport oxygen around the body. Human blood is red because it contains iron instead.

Sometimes people are said to be 'blue blooded' meaning they are of royal or noble birth. This phrase may have its origins in paleness of peoples' skin from wealthy European families. The wealthy could afford to spend their time inside away from the sun, meaning their skin was pale enough to see their blue veins. Whereas people of poorer backgrounds spent more time outside in the sunshine working and had darker skin.

Horseshoe crabs are the closest relatives to Trilobites which are now extinct. They have been around for more than 300 million years, making them older than the dinosaurs!
Queen Alexandra's Birdwing
Queen Alexandra's Birdwing
(object 5 of 13)
FLY ON THE WALL GALLERY

The name "Queen Alexandra's birdwing" honours Alexandra of Denmark. She married King Edward VII of England. The are called 'birdwing' because of their angular wings and bird-like style of flight.

Queen Alexandra's birdwing butterflies are a rare find in their native home of Papua New Guinea. Females (brown) are the largest butterflies in the world. They have a wingspan that can reach up to 30cm!

If you were a king or queen what animal or plant would you like named in your honour?
Princess Helena's Hummer
Princess Helena's Hummer
(object 6 of 13)
IN FINE FEATHER GALLERY

The scientific name for this tiny bird is Mellisuga helenae. It is named after Princess Helena, Queen Victoria's fifth child.

It measures 65mm in length and weighs only 1.8g. The 'hummer' is the smallest known living bird today. It is also called the bee hummingbirds due to its size and style of flight. Male bee hummingbirds are smaller than females and their feathers are brighter. The bird's wings beat 80 times per second and sound like a bumble bee

Swedish Naturalist Oscar Tollin collected this specimen at Guantanamo, Cuba in April 1914.
Pharaoh Amenhotep
Pharaoh Amenhotep
(object 7 of 13)
ANCIENT WORLDS GALLERY

Many cultures throughout history have had royal families. This is part of a commemorative monument called a stela. It shows the Pharaoh Amenhotep I and his mother Ahmose Nefertari. Amenhotep I was the second Pharaoh of the 18th dynasty of Egypt. Both Amenhotep I and Ahmose Nefertari were worshipped as gods after their deaths. They were popular deities with the workmen in the Valley of the Kings.
Yoruba formal crown
Yoruba formal crown
(object 8 of 13)
WORLD CULTURES GALLERY

The Yoruba formal crown (or Adenla) represents the highest level of authority given to Yoruba leaders and is a symbol of great power and status. They are worn on state occasions and public functions. It is made out of glass beads and cotton, with the use of glass being a sign of wealth and royalty. The different bead colours are associated with Yoruba cosmology and divinity, giving agency to the crown.

The bird on the top of the crown represents the king's ability to mediate between spiritual and secular worlds. Each crown is unique to the king who wears it and the veil separates the ruler from the people and reinforces their role as divine leader.

If you designed your own crown what would it look like?
Treadwin's lace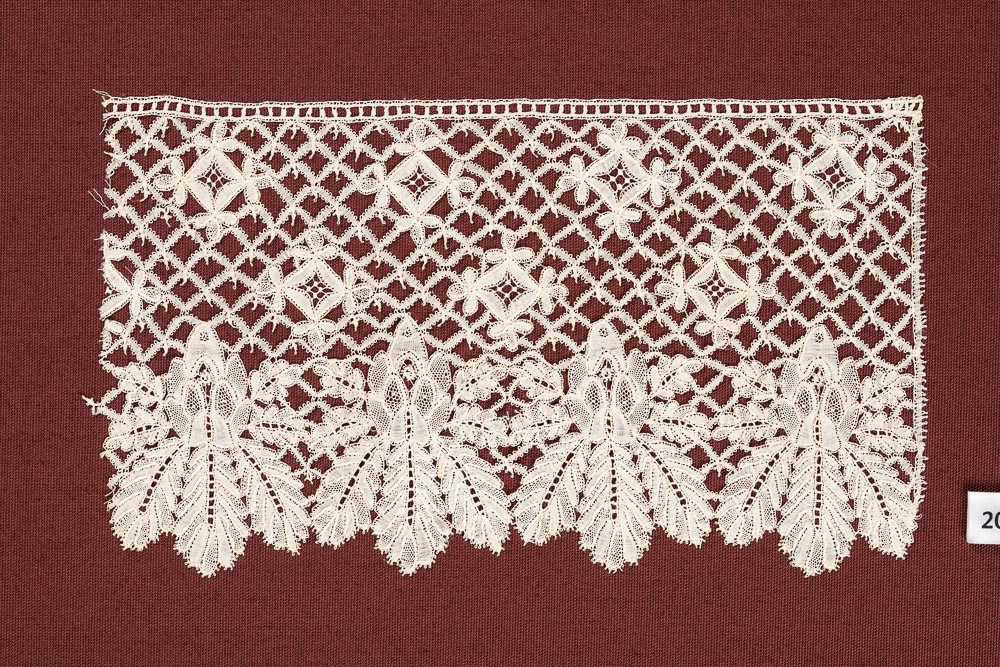 Treadwin's lace
(object 9 of 13)
FINDERS KEEPERS? GALLERY

Charlotte Treadwin was an Exeter lace designer and manufacturer. In 1848 Queen Victoria appointed her as 'Lace maker in Ordinary' and gave her a royal warrant.

The Queen's first order was a handkerchief with a design of roses and thistles and Charlotte was paid £7 for her work.

Lace was a luxury item worn by the wealthy, but those producing the lace were often from very poor and humble backgrounds. Lace designs and techniques varied depending on which region in the country it was made.

PLEASE MAKE YOUR WAY DOWNSTAIRS
King Charles I crown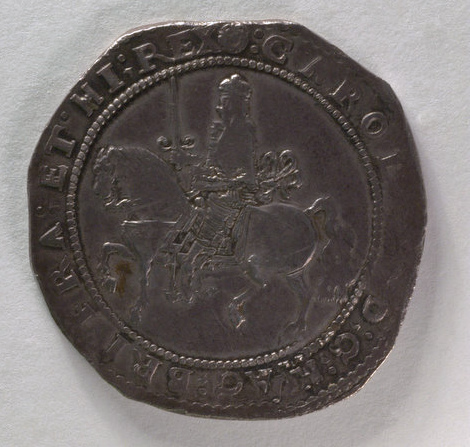 King Charles I crown
(object 10 of 13)
MAKING HISTORY GALLERY

Sir Richard Vyvyan minted these crowns of King Charles I in Exeter in 1644. In this year the King's wife gave birth to their daughter, Henrietta Anne, in the city.

On the 6th of May, King Charles III will be crowned at Westminster Abbey with the St. Edward's Crown.

Unlike that crown, these ones represent a chaotic time for the monarchy- the English Civil War. Exeter was under Royalist control from 1643 to 1646. Coins like these were minted in the city on behalf of the King as he fought for his throne.
Civil War Armour and Lobster-tailed Helmet
Civil War Armour and Lobster-tailed Helmet
(object 11 of 13)
MAKING HISTORY GALLERY

Soldiers wore this armour during the English Civil War of the 1640's. The war was a conflict between Royalists, led by King Charles I, and Parliamentarians. They disagreed about how to rule England and about religious freedom.

The armour is made of iron and has three parts. It has a breastplate, a backplate and the tasset, which protects the thighs.

Find the 'lobster-tailed helmet' nearby (hint: number 17). It has an extended neck protector and a three pronged faceguard. It was a popular design with both armies.
Evening shoes fit for a queen
Evening shoes fit for a queen
(object 12 of 13)
MAKING HISTORY GALLERY

H & M Rayne designed these late 1920s evening shoes. This was about 10 years before this former theatrical costumier company was launched into the limelight by receiving the Royal warrant as shoemakers for Queen Mary.

The warrant continued under the Queen Mother and Queen Elizabeth II. Princess Margaret and Princess Anne wore Rayne's for their weddings while Princess Diana wore them to meet Mother Teresa in 1997. Apart from the royal family, heads of state, Margaret Thatcher and Benazir Bhutto have worn them and celebrities such as Elizabeth Taylor, Brigitte Bardot and Rita Hayworth have been spotted in Rayne's too!

If you were king or queen what kind of shoes would you choose to wear to an evening event?
Coronation Souvenirs
Coronation Souvenirs
(object 13 of 13)
VIEWPOINT WINDOWS

In these windows are a selection of souvenirs from past coronations including a model of the gold coach that made for a very uncomfortable ride, a mug for a coronation that never happened, and a 260 year old needle case made from scraps of Queen charlotte's wardrobe.

What will you keep from the coronation this year?


My Coronation Trail Notes
Coronation Trail
To celebrate the coronation of King Charles III and Queen Camilla, discover objects with a connection to royalty in RAMM's galleries using this trail.

RAMM's Future Skills group chose the objects and wrote the text. The Future Skills Programme is designed to allow individuals of any age (18+), to gain work experience within the museum and cultural sector.
To celebrate the coronation of King Charles III and Queen Camilla discover objects relating to royalty in RAMM's galleries using this trail. Designed and written by participants in RAMM's Future Skills Programme
Introduction

These terms and conditions govern your use of our website.
By using our website, you accept these terms and conditions in full; accordingly, if you disagree with these terms and conditions or any part of these terms and conditions, you must not use our website.
If you submit any material to our website or use any of our website services, we will ask you to expressly agree to these terms and conditions.
You must be at least 13 years of age to use our website; and by using our website or agreeing to these terms and conditions, you warrant and represent to us that you are at least 13 years of age.
Our website uses cookies; by using our website or agreeing to these terms and conditions, you consent to our use of cookies.

Copyright notice

Copyright (c) 2023 Coronation Trail.
Subject to the express provisions of these terms and conditions:
(a)we, together with our licensors, own and control all the copyright and other intellectual property rights in our website and the material on our website; and
(b)all the copyright and other intellectual property rights in our website and the material on our website are reserved.

Licence to use website

You may:
(a)view pages from our website in a web browser;
(b)download pages from our website for caching in a web browser;
(c)print pages from our website;
(d)stream audio and video files from our website; and
(e)use our website services by means of a web browser,
subject to the other provisions of these terms and conditions.
Except as expressly permitted by the other provisions of these terms and conditions, you must not download any material from our website or save any such material to your computer.
You may only use our website for your own personal and business purposes and you must not use our website for any other purposes.
Except as expressly permitted by these terms and conditions, you must not edit or otherwise modify any material on our website.
Unless you own or control the relevant rights in the material, you must not:
(a)republish material from our website (including republication on another website);
(b)sell, rent or sub-license material from our website;
(c)show any material from our website in public;
(d)exploit material from our website for a commercial purpose; or
(e)redistribute material from our website.
We reserve the right to restrict access to areas of our website, or indeed our whole website, at our discretion; you must not circumvent or bypass, or attempt to circumvent or bypass, any access restriction measures on our website.

Acceptable use

You must not:
(a)use our website in any way or take any action that causes, or may cause, damage to the website or impairment of the performance, availability or accessibility of the website;
(b)use our website in any way that is unlawful, illegal, fraudulent or harmful, or in connection with any unlawful, illegal, fraudulent or harmful purpose or activity;
(c)use our website to copy, store, host, transmit, send, use, publish or distribute any material which consists of (or is linked to) any spyware, computer virus, Trojan horse, worm, keystroke logger, rootkit or other malicious computer software;
(d)conduct any systematic or automated data collection activities (including without limitation scraping, data mining, data extraction and data harvesting) on or in relation to our website without our express written consent;
(e)access or otherwise interact with our website using any robot, spider or other automated means;
(f)violate the directives set out in the robots.txt file for our website; or
(g)use data collected from our website for any direct marketing activity (including without limitation email marketing, SMS marketing, telemarketing and direct mailing).
You must not use data collected from our website to contact individuals, companies or other persons or entities.
You must ensure that all the information you supply to us through our website, or in relation to our website, is true, accurate, current, complete and non-misleading.

Posting material

To be eligible to post information on our website you must be at least 13 years of age and resident in the United Kingdom.

User IDs and passwords

If you register for an account with our website, we will provide you with a user ID and password.
Your user ID must not be liable to mislead and must comply with the content rules set out in Section 9; you must not use your account or user ID for or in connection with the impersonation of any person.
You must keep your password confidential.
You must notify us in writing immediately if you become aware of any disclosure of your password.
You are responsible for any activity on our website arising out of any failure to keep your password confidential, and may be held liable for any losses arising out of such a failure.

Cancellation and suspension of account

We may:
(a)suspend your account;
(b)cancel your account; and/or
(c)edit your account details,
at any time in our sole discretion without notice or explanation.

Your content: licence

In these terms and conditions, "your content" means all works and materials (including without limitation text, graphics, images, audio material, video material, audio-visual material, scripts, software and files) that you submit to us or our website for storage or publication on, processing by, or transmission via, our website.
You grant to us a perpetual, irrevocable, worldwide, royalty-free, and non-exclusive license to use, reproduce, store, adapt, publish, translate and distribute your content in any existing or future media / reproduce, store and publish your content on and in relation to this website and any successor website / reproduce, store and, with your specific consent, publish your content on and in relation to this website.
You hereby waive all your moral rights in your content to the maximum extent permitted by applicable law; and you warrant and represent that all other moral rights in your content have been waived to the maximum extent permitted by applicable law.
Without prejudice to our other rights under these terms and conditions, if you breach any provision of these terms and conditions in any way, or if we reasonably suspect that you have breached these terms and conditions in any way, we may delete, unpublish or edit any or all of your content.

Your content: rules

You warrant and represent that your content will comply with these terms and conditions.
Your content must not be illegal or unlawful, must not infringe any person's legal rights, and must not be capable of giving rise to legal action against any person (in each case in any jurisdiction and under any applicable law).
Your content, and the use of your content by us in accordance with these terms and conditions, must not:
(a)be libellous or maliciously false;
(b)be obscene or indecent;
(c)infringe any copyright, moral right, database right, trade mark right, design right, right in passing off, or other intellectual property right;
(d)infringe any right of confidence, right of privacy or right under data protection legislation;
(e)constitute negligent advice or contain any negligent statement;
(f)constitute an incitement to commit a crime[, instructions for the commission of a crime or the promotion of criminal activity;
(g)be in contempt of any court, or in breach of any court order;
(h)be in breach of racial or religious hatred or discrimination legislation;
(i)be blasphemous;
(j)be in breach of official secrets legislation;
(k)be in breach of any contractual obligation owed to any person;
(l)depict violence, in an explicit, graphic or gratuitous manner;
(m) be pornographic, lewd, suggestive or sexually explicit;
(n)be untrue, false, inaccurate or misleading;
(o)consist of or contain any instructions, advice or other information which may be acted upon and could, if acted upon, cause illness, injury or death, or any other loss or damage;
(p)constitute spam;
(q)contain pictures of children under the age of 16 years whose parental consent hasn't been completly gained;
(r)be offensive, deceptive, fraudulent, threatening, abusive, harassing, anti-social, menacing, hateful, discriminatory or inflammatory; or
(s)cause annoyance, inconvenience or needless anxiety to any person.
Your content must be appropriate, civil and tasteful, and accord with generally accepted standards of etiquette and behaviour on the internet.
You must not use our website to link to any website or web page consisting of or containing material that would, were it posted on our website, breach the provisions of these terms and conditions.
You must not submit to our website any material that is or has ever been the subject of any threatened or actual legal proceedings or other similar complaint.

Report abuse

If you learn of any unlawful material or activity on our website, or any material or activity that breaches these terms and conditions, please let us know.

Limited warranties

We do not warrant or represent:
(a)the completeness or accuracy of the information published on our website;
(b)that the material on the website is up to date; or
(c)that the website or any service on the website will remain available.
We reserve the right to discontinue or alter any or all of our website services, and to stop publishing our website, at any time in our sole discretion without notice or explanation; and save to the extent that these terms and conditions expressly provide otherwise, you will not be entitled to any compensation or other payment upon the discontinuance or alteration of any website services, or if we stop publishing the website.
To the maximum extent permitted by applicable law we exclude all representations and warranties relating to the subject matter of these terms and conditions, our website and the use of our website.

Limitations and exclusions of liability

Nothing in these terms and conditions will:
(a)limit or exclude any liability for death or personal injury resulting from negligence;
(b)limit or exclude any liability for fraud or fraudulent misrepresentation;
(c)limit any liabilities in any way that is not permitted under applicable law; or
(d)exclude any liabilities that may not be excluded under applicable law.
The limitations and exclusions of liability set out elsewhere in these terms and conditions:
(a)govern all liabilities arising under these terms and conditions or relating to the subject matter of these terms and conditions, including liabilities arising in contract, in tort (including negligence) and for breach of statutory duty.
To the extent that our website and the information and services on our website are provided free of charge, we will not be liable for any loss or damage of any nature.
We will not be liable to you in respect of any losses arising out of any event or events beyond our reasonable control.
We will not be liable to you in respect of any business losses, including (without limitation) loss of or damage to profits, income, revenue, use, production, anticipated savings, business, contracts, commercial opportunities or goodwill.
We will not be liable to you in respect of any loss or corruption of any data, database or software.
We will not be liable to you in respect of any special, indirect or consequential loss or damage.
You accept that we have an interest in limiting the personal liability of our officers and employees and, having regard to that interest, you acknowledge that we are a limited liability entity; you agree that you will not bring any claim personally against our officers or employees in respect of any losses you suffer in connection with the website or these terms and conditions (this will not, of course, limit or exclude the liability of the limited liability entity itself for the acts and omissions of our officers and employees).

Indemnity

You hereby indemnify us, and undertake to keep us indemnified, against any and all losses, damages, costs, liabilities and expenses (including without limitation legal expenses and any amounts paid by us to a third party in settlement of a claim or dispute) incurred or suffered by us and arising directly or indirectly out of:
(a)any breach by you of any provision of these terms and conditions; or
(b)your use of our website.

Breaches of these terms and conditions

Without prejudice to our other rights under these terms and conditions, if you breach these terms and conditions in any way, or if we reasonably suspect that you have breached these terms and conditions in any way, we may:
(a)send you one or more formal warnings;
(b)temporarily suspend your access to our website;
(c)permanently prohibit you from accessing our website;
(d)block computers using your IP address from accessing our website;
(e)contact any or all your internet service providers and request that they block your access to our website;
(f)commence legal action against you, whether for breach of contract or otherwise; and/or
(g)suspend or delete your account on our website.
Where we suspend or prohibit or block your access to our website or a part of our website, you must not take any action to circumvent such suspension or prohibition or blocking (including without limitation creating and/or using a different account).

Third party websites

Our website includes hyperlinks to other websites owned and operated by third parties; such hyperlinks are not recommendations.

Competitions

From time to time we may run competitions, free prize draws and/or other promotions on our website.
Competitions will be subject to separate terms and conditions (which we will make available to you as appropriate).

Variation

We may revise these terms and conditions from time to time.
The revised terms and conditions will apply to the use of our website from the date of their publication on the website, and you hereby waive any right you may otherwise have to be notified of, or to consent to, revisions of the terms and conditions. / We will give you written notice of any revision of these terms and conditions, and the revised terms and conditions will apply to the use of our website from the date that we give you such notice; if you do not agree to the revised terms and conditions, you must stop using our website.
If you have given your express agreement to these terms and conditions, we will ask for your express agreement to any revision of these terms and conditions; and if you do not give your express agreement to the revised terms and conditions within such period as we may specify, we will disable or delete your account on the website, and you must stop using the website.

Assignment

You hereby agree that we may assign, transfer, sub-contract or otherwise deal with our rights and/or obligations under these terms and conditions.
You may not without our prior written consent assign, transfer, sub-contract or otherwise deal with any of your rights and/or obligations under these terms and conditions.

Severability

If a provision of these terms and conditions is determined by any court or other competent authority to be unlawful and/or unenforceable, the other provisions will continue in effect.
If any unlawful and/or unenforceable provision of these terms and conditions would be lawful or enforceable if part of it were deleted, that part will be deemed to be deleted, and the rest of the provision will continue in effect.

Third party rights

These terms and conditions are for our benefit and your benefit, and are not intended to benefit or be enforceable by any third party.
The exercise of the parties' rights under these terms and conditions is not subject to the consent of any third party.

Law and jurisdiction

These terms and conditions shall be governed by and construed in accordance with English law.
Any disputes relating to these terms and conditions shall be subject to the exclusive jurisdiction of the courts of England.
Close