CASE HISTORIES - Cuvier's whale
Cuvier's whale
CASE HISTORIES - Cuvier's whale
(Stop 1 of 12)
Nearly 700 years ago, during the reign of King Edward II, all whales and sturgeon from UK waters became property of the king or queen. If caught, these 'royal fish' must be offered first to the reigning monarch due to their 'superior excellence' for eating. Whales (which are actually mammals, not fish) and sturgeon are now protected species.

This skeleton came from a Cuvier's whale that washed ashore at Exmouth in September 1987.

Case Histories Gallery, suspended from the ceiling.
FINDERS KEEPERS? - An Oba's crown
An Oba's crown
FINDERS KEEPERS? - An Oba's crown
(Stop 2 of 12)
In the Yoruba culture, the ruler of a kingdom or a major town is called an Oba. The Oba will wear different types of beaded crowns, and this particular crown was worn on non-formal occasions. It reminds observers that the head of the Oba is sacred at all times; crowns symbolise his power and authority.

In the Yoruba language it is called an orikogbofo (oree-ko-bofo). This was likely worn by an Oba called Okukenu, who was the alake of Abeokuta.

Finders Keepers? Gallery, Townsend, display number 39
A photograph of the Queen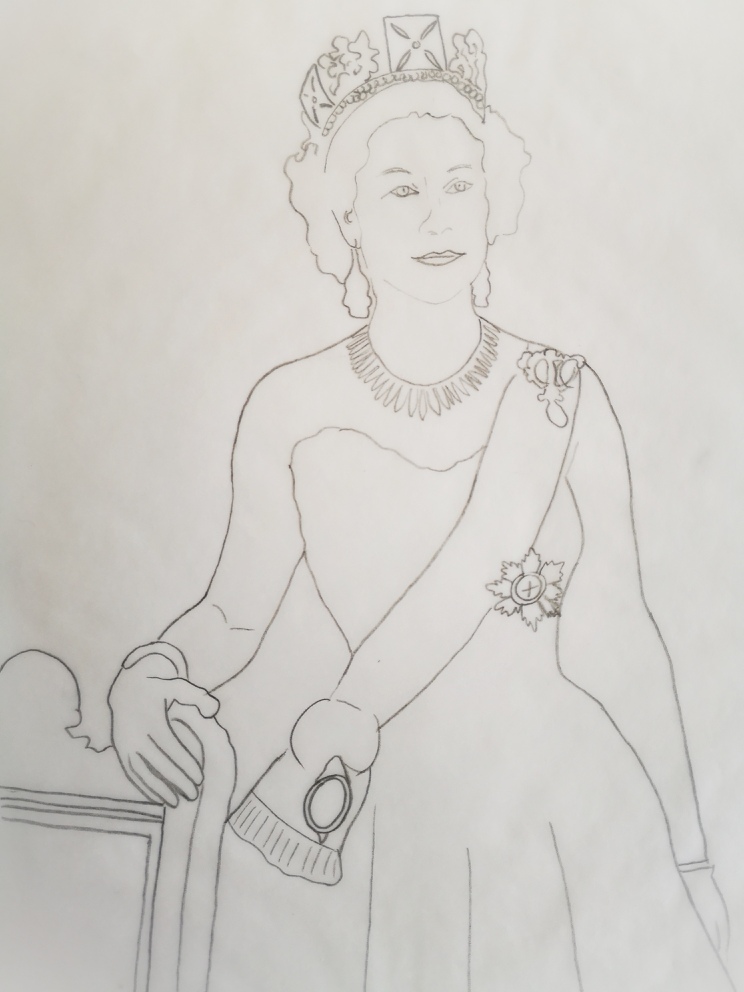 A photograph of the Queen
(Stop 3 of 12)
Sterling Henry Nahum took this photograph at Buckingham Palace on 12 March 1953. Known professionally as Baron, he was a personal friend to Prince Philip and Court Photographer to the Royal Family. The orders and jewellery worn by the Queen are symbolic and many have a very long history.

The sash and star-shaped brooch are the dark blue Riband and Star of the Order of the Garter – the oldest Order of Chivalry in the world.

On her head she wears the Diamond Diadem. King George IV commissioned it for his coronation in 1821. It is made from 1,333 diamonds set in silver and gold that form the national emblems of the thistle, rose and shamrock. Many other queens have worn this diadem.
The diamond brooch on her shoulder is part of a wedding gift from her grandmother, Queen Mary. It is part of a much larger piece of jewellery that Queen Mary commissioned in 1920 using diamonds from two of her own wedding gifts (one given to her by the Maharajah of Kapurthala and the other a brooch from the town of Swansea).

Her necklace is known as City of London necklace because it was a wedding present from the Lord Mayor of London and officials from various banks and financial institutions.

(An illustration is used here because RAMM does not own copyright for this photograph).

Courtyard, bridge level, top right
Chess pieces
King chess piece
Chess pieces
(Stop 4 of 12)
The game of chess has its origins nearly 1500 years ago in India in a game called chaturanga. As chess spread around the world the rules and pieces changed dramatically. Originally the game was thought of as a field of battle. But as the game spread across Europe in the mid 12th century the pieces took inspiration from a royal court instead of an army. Pieces which had once included elephants, cavalry and chariots became the kings, queens, knights, bishops, rooks and pawns we are familiar with today.

The Martin Brothers of Southall, London made this salt-glazed king, queen and bishop in about 1901. Modelling these intricate figures took a lot of time and were usually sold at financial loss.

Purchased with assistance from the V&A Purchase Grant and the National Art Collections Fund (Art Fund)

Courtyard, Bridge level, left
FLY ON THE WALL - Queen Alexandra's butterfly

Male Queen Alexandra's birdwing butterfly
FLY ON THE WALL - Queen Alexandra's butterfly
(Stop 5 of 12)
In 1907 British zoologist Walter Rothschild named these rare butterflies from Papua New Guinea Troides alexandrae in honour of Queen Alexandra. She was the wife of King Edward VII and daughter of the King of Denmark.

The male is brightly coloured. The brown females are the largest butterflies in the world with a wing span of nearly 30cm.

They look similar to a birdwing butterfly named after Queen Victoria in 1856, so naming it after her daughter-in-law seemed very appropriate.

Fly on the wall gallery, right hand butterfly panel.
IN FINE FEATHER - King penguin
King penguin
IN FINE FEATHER - King penguin
(Stop 6 of 12)
It's all about size! When John Miller named the king penguin in 1778 it was the largest penguin species known to western science (around 90cm tall), hence this choice of common name.

66 years later George Gray described another new species. It looked very similar to the king penguin but quite a bit larger at around 1.2m. It is commonly known as the emperor penguin.

Fossils from Antarctica have revealed an even bigger species of penguin once swam the seas. It stood at an enormous 1.6m – around the height of an adult human!

In Fine Feather gallery, display number 68
MAKING HISTORY - Lace coat of arms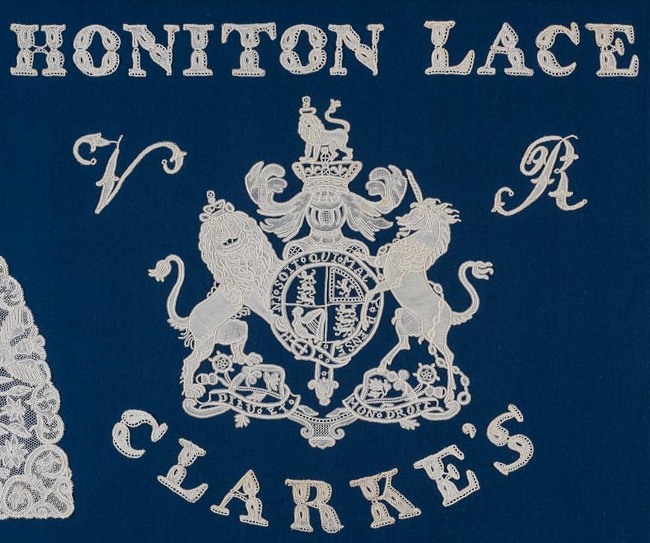 Lace coat of arms
MAKING HISTORY - Lace coat of arms
(Stop 7 of 12)
This is Queen Victoria's royal coat of arms made in lace. It includes plants and animals that symbolise parts of the United Kingdom: lions and a Tudor rose for England, a lion, thistle and unicorn for Scotland, and a harp and shamrocks for Ireland.

Businesses that supply the royal household with goods or services can be granted a Royal Warrant. This is a prestigious mark of approval and allows them to display the royal coat of arms. In 1837 Esther Clarke of Honiton was appointed Honiton Lace Manufacturer in ordinary to Queen Victoria. Her firm made this coat of arms in lace.

Today there are around 800 Royal Warrant holders who can display Queen Elizabeth's coat of arms.

Making History Wall, 19th Century, display number 5
MAKING HISTORY - Wooden frieze
face of a queen
MAKING HISTORY - Wooden frieze
(Stop 8 of 12)
Merchants displayed their wealth by decorating the fronts of their houses with carvings. This wooden frieze is from a house in Exeter's Fore Street around 450 years ago. There are flowers, scrolls of foliage mixed with strange beasts and human figures. You might be able to spot mermaids and a king and a queen.

Making History, wall, Tudor & Stuart, display number 57
MAKING HISTORY: A regal roof boss
regal roof boss
MAKING HISTORY: A regal roof boss
(Stop 9 of 12)
Look up! Exeter church restorer, Harry Hems, built up a huge collection of carved medieval woodwork to inspire his team of carvers. These roof bosses once covered the joints between the beams of a vaulted church roof. Most of the carvings are of flowers or leaves but you should be able to spot a king staring down at you.

MAKING HISTORY, Wall, Medieval, display number 72
MAKING HISTORY - Queen's head
Queen's face carved in stone
MAKING HISTORY - Queen's head
(Stop 10 of 12)
One of a pair of carved stone heads reused in a fireplace of a house in Membury (East Devon). Unfortunately, the king is now lost. They may have come from Membury parish church.

Making History, Wall, Medieval, display number 66
MAKING HISTORY - Penny with the face of a King
Penny with the face of the King
MAKING HISTORY - Penny with the face of a King
(Stop 11 of 12)
This Saxon penny is one of the earliest coins in RAMM's galleries to show the King of England's face. It was issued by King Eadgar and minted in Totnes. Also known as Eadgar the Peaceful he reigned from 959 to 975.

His coronation took place at Bath Abbey in a service devised by Saint Dunstan. Dunstan's service laid the foundation for the way coronations are conducted today.

Making History, wall, Medieval, display number 124
Royal souvenirs
Royal souvenirs
Royal souvenirs
(Stop 12 of 12)
In these windows are souvenirs from events during Her Majesty Queen Elizabeth II's reign including a model of the State Coach which made for a very uncomfortable ride, a 69 year old crisp packet and a catalogue of coronation fashions.

Viewpoint windows


My Platinum Jubilee Notes
Platinum Jubilee
To celebrate Her Majesty Queen Elizabeth II's Platinum Jubilee discover objects relating to royalty in RAMM's galleries using this trail.

Queen Elizabeth is the longest reigning monarch in England's history. She came to the throne 70 years ago - that's 7 years longer than Queen Victoria's reign.
The more you look, the more you see! There are many objects in RAMM's galleries with royal connections. Some are obvious, others less so. Discover royal fish, faces and emblems on your journey along this trail.
Introduction

These terms and conditions govern your use of our website.
By using our website, you accept these terms and conditions in full; accordingly, if you disagree with these terms and conditions or any part of these terms and conditions, you must not use our website.
If you submit any material to our website or use any of our website services, we will ask you to expressly agree to these terms and conditions.
You must be at least 13 years of age to use our website; and by using our website or agreeing to these terms and conditions, you warrant and represent to us that you are at least 13 years of age.
Our website uses cookies; by using our website or agreeing to these terms and conditions, you consent to our use of cookies.

Copyright notice

Copyright (c) 2022 Royal Albert Memorial Museum & Art Gallery.
Subject to the express provisions of these terms and conditions:
(a)we, together with our licensors, own and control all the copyright and other intellectual property rights in our website and the material on our website; and
(b)all the copyright and other intellectual property rights in our website and the material on our website are reserved.

Licence to use website

You may:
(a)view pages from our website in a web browser;
(b)download pages from our website for caching in a web browser;
(c)print pages from our website;
(d)stream audio and video files from our website; and
(e)use our website services by means of a web browser,
subject to the other provisions of these terms and conditions.
Except as expressly permitted by the other provisions of these terms and conditions, you must not download any material from our website or save any such material to your computer.
You may only use our website for your own personal and business purposes and you must not use our website for any other purposes.
Except as expressly permitted by these terms and conditions, you must not edit or otherwise modify any material on our website.
Unless you own or control the relevant rights in the material, you must not:
(a)republish material from our website (including republication on another website);
(b)sell, rent or sub-license material from our website;
(c)show any material from our website in public;
(d)exploit material from our website for a commercial purpose; or
(e)redistribute material from our website.
We reserve the right to restrict access to areas of our website, or indeed our whole website, at our discretion; you must not circumvent or bypass, or attempt to circumvent or bypass, any access restriction measures on our website.

Acceptable use

You must not:
(a)use our website in any way or take any action that causes, or may cause, damage to the website or impairment of the performance, availability or accessibility of the website;
(b)use our website in any way that is unlawful, illegal, fraudulent or harmful, or in connection with any unlawful, illegal, fraudulent or harmful purpose or activity;
(c)use our website to copy, store, host, transmit, send, use, publish or distribute any material which consists of (or is linked to) any spyware, computer virus, Trojan horse, worm, keystroke logger, rootkit or other malicious computer software;
(d)conduct any systematic or automated data collection activities (including without limitation scraping, data mining, data extraction and data harvesting) on or in relation to our website without our express written consent;
(e)access or otherwise interact with our website using any robot, spider or other automated means;
(f)violate the directives set out in the robots.txt file for our website; or
(g)use data collected from our website for any direct marketing activity (including without limitation email marketing, SMS marketing, telemarketing and direct mailing).
You must not use data collected from our website to contact individuals, companies or other persons or entities.
You must ensure that all the information you supply to us through our website, or in relation to our website, is true, accurate, current, complete and non-misleading.

Posting material

To be eligible to post information on our website you must be at least 13 years of age and resident in the United Kingdom.

User IDs and passwords

If you register for an account with our website, we will provide you with a user ID and password.
Your user ID must not be liable to mislead and must comply with the content rules set out in Section 9; you must not use your account or user ID for or in connection with the impersonation of any person.
You must keep your password confidential.
You must notify us in writing immediately if you become aware of any disclosure of your password.
You are responsible for any activity on our website arising out of any failure to keep your password confidential, and may be held liable for any losses arising out of such a failure.

Cancellation and suspension of account

We may:
(a)suspend your account;
(b)cancel your account; and/or
(c)edit your account details,
at any time in our sole discretion without notice or explanation.

Your content: licence

In these terms and conditions, "your content" means all works and materials (including without limitation text, graphics, images, audio material, video material, audio-visual material, scripts, software and files) that you submit to us or our website for storage or publication on, processing by, or transmission via, our website.
You grant to us a perpetual, irrevocable, worldwide, royalty-free, and non-exclusive license to use, reproduce, store, adapt, publish, translate and distribute your content in any existing or future media / reproduce, store and publish your content on and in relation to this website and any successor website / reproduce, store and, with your specific consent, publish your content on and in relation to this website.
You hereby waive all your moral rights in your content to the maximum extent permitted by applicable law; and you warrant and represent that all other moral rights in your content have been waived to the maximum extent permitted by applicable law.
Without prejudice to our other rights under these terms and conditions, if you breach any provision of these terms and conditions in any way, or if we reasonably suspect that you have breached these terms and conditions in any way, we may delete, unpublish or edit any or all of your content.

Your content: rules

You warrant and represent that your content will comply with these terms and conditions.
Your content must not be illegal or unlawful, must not infringe any person's legal rights, and must not be capable of giving rise to legal action against any person (in each case in any jurisdiction and under any applicable law).
Your content, and the use of your content by us in accordance with these terms and conditions, must not:
(a)be libellous or maliciously false;
(b)be obscene or indecent;
(c)infringe any copyright, moral right, database right, trade mark right, design right, right in passing off, or other intellectual property right;
(d)infringe any right of confidence, right of privacy or right under data protection legislation;
(e)constitute negligent advice or contain any negligent statement;
(f)constitute an incitement to commit a crime[, instructions for the commission of a crime or the promotion of criminal activity;
(g)be in contempt of any court, or in breach of any court order;
(h)be in breach of racial or religious hatred or discrimination legislation;
(i)be blasphemous;
(j)be in breach of official secrets legislation;
(k)be in breach of any contractual obligation owed to any person;
(l)depict violence, in an explicit, graphic or gratuitous manner;
(m) be pornographic, lewd, suggestive or sexually explicit;
(n)be untrue, false, inaccurate or misleading;
(o)consist of or contain any instructions, advice or other information which may be acted upon and could, if acted upon, cause illness, injury or death, or any other loss or damage;
(p)constitute spam;
(q)contain pictures of children under the age of 16 years whose parental consent hasn't been completly gained;
(r)be offensive, deceptive, fraudulent, threatening, abusive, harassing, anti-social, menacing, hateful, discriminatory or inflammatory; or
(s)cause annoyance, inconvenience or needless anxiety to any person.
Your content must be appropriate, civil and tasteful, and accord with generally accepted standards of etiquette and behaviour on the internet.
You must not use our website to link to any website or web page consisting of or containing material that would, were it posted on our website, breach the provisions of these terms and conditions.
You must not submit to our website any material that is or has ever been the subject of any threatened or actual legal proceedings or other similar complaint.

Report abuse

If you learn of any unlawful material or activity on our website, or any material or activity that breaches these terms and conditions, please let us know.
You can let us know by email by clicking here: ramm.enquiries@exeter.gov.uk

Limited warranties

We do not warrant or represent:
(a)the completeness or accuracy of the information published on our website;
(b)that the material on the website is up to date; or
(c)that the website or any service on the website will remain available.
We reserve the right to discontinue or alter any or all of our website services, and to stop publishing our website, at any time in our sole discretion without notice or explanation; and save to the extent that these terms and conditions expressly provide otherwise, you will not be entitled to any compensation or other payment upon the discontinuance or alteration of any website services, or if we stop publishing the website.
To the maximum extent permitted by applicable law we exclude all representations and warranties relating to the subject matter of these terms and conditions, our website and the use of our website.

Limitations and exclusions of liability

Nothing in these terms and conditions will:
(a)limit or exclude any liability for death or personal injury resulting from negligence;
(b)limit or exclude any liability for fraud or fraudulent misrepresentation;
(c)limit any liabilities in any way that is not permitted under applicable law; or
(d)exclude any liabilities that may not be excluded under applicable law.
The limitations and exclusions of liability set out elsewhere in these terms and conditions:
(a)govern all liabilities arising under these terms and conditions or relating to the subject matter of these terms and conditions, including liabilities arising in contract, in tort (including negligence) and for breach of statutory duty.
To the extent that our website and the information and services on our website are provided free of charge, we will not be liable for any loss or damage of any nature.
We will not be liable to you in respect of any losses arising out of any event or events beyond our reasonable control.
We will not be liable to you in respect of any business losses, including (without limitation) loss of or damage to profits, income, revenue, use, production, anticipated savings, business, contracts, commercial opportunities or goodwill.
We will not be liable to you in respect of any loss or corruption of any data, database or software.
We will not be liable to you in respect of any special, indirect or consequential loss or damage.
You accept that we have an interest in limiting the personal liability of our officers and employees and, having regard to that interest, you acknowledge that we are a limited liability entity; you agree that you will not bring any claim personally against our officers or employees in respect of any losses you suffer in connection with the website or these terms and conditions (this will not, of course, limit or exclude the liability of the limited liability entity itself for the acts and omissions of our officers and employees).

Indemnity

You hereby indemnify us, and undertake to keep us indemnified, against any and all losses, damages, costs, liabilities and expenses (including without limitation legal expenses and any amounts paid by us to a third party in settlement of a claim or dispute) incurred or suffered by us and arising directly or indirectly out of:
(a)any breach by you of any provision of these terms and conditions; or
(b)your use of our website.

Breaches of these terms and conditions

Without prejudice to our other rights under these terms and conditions, if you breach these terms and conditions in any way, or if we reasonably suspect that you have breached these terms and conditions in any way, we may:
(a)send you one or more formal warnings;
(b)temporarily suspend your access to our website;
(c)permanently prohibit you from accessing our website;
(d)block computers using your IP address from accessing our website;
(e)contact any or all your internet service providers and request that they block your access to our website;
(f)commence legal action against you, whether for breach of contract or otherwise; and/or
(g)suspend or delete your account on our website.
Where we suspend or prohibit or block your access to our website or a part of our website, you must not take any action to circumvent such suspension or prohibition or blocking (including without limitation creating and/or using a different account).

Third party websites

Our website includes hyperlinks to other websites owned and operated by third parties; such hyperlinks are not recommendations.

Competitions

From time to time we may run competitions, free prize draws and/or other promotions on our website.
Competitions will be subject to separate terms and conditions (which we will make available to you as appropriate).

Variation

We may revise these terms and conditions from time to time.
The revised terms and conditions will apply to the use of our website from the date of their publication on the website, and you hereby waive any right you may otherwise have to be notified of, or to consent to, revisions of the terms and conditions. / We will give you written notice of any revision of these terms and conditions, and the revised terms and conditions will apply to the use of our website from the date that we give you such notice; if you do not agree to the revised terms and conditions, you must stop using our website.
If you have given your express agreement to these terms and conditions, we will ask for your express agreement to any revision of these terms and conditions; and if you do not give your express agreement to the revised terms and conditions within such period as we may specify, we will disable or delete your account on the website, and you must stop using the website.

Assignment

You hereby agree that we may assign, transfer, sub-contract or otherwise deal with our rights and/or obligations under these terms and conditions.
You may not without our prior written consent assign, transfer, sub-contract or otherwise deal with any of your rights and/or obligations under these terms and conditions.

Severability

If a provision of these terms and conditions is determined by any court or other competent authority to be unlawful and/or unenforceable, the other provisions will continue in effect.
If any unlawful and/or unenforceable provision of these terms and conditions would be lawful or enforceable if part of it were deleted, that part will be deemed to be deleted, and the rest of the provision will continue in effect.

Third party rights

These terms and conditions are for our benefit and your benefit, and are not intended to benefit or be enforceable by any third party.
The exercise of the parties' rights under these terms and conditions is not subject to the consent of any third party.

Law and jurisdiction

These terms and conditions shall be governed by and construed in accordance with English law.
Any disputes relating to these terms and conditions shall be subject to the exclusive jurisdiction of the courts of England.

Our details

This website is licensed and operated by Platinum Jubilee.
You can contact us by using by email to ramm.enquiries@exeter.gov.uk
Close